Mussolini et la littérature, du socialisme au fascisme
Mussolini e la letteratura, dal socialismo al fascismo
This thesis explores the relationship of Benito Mussolini (1883-1945) with literature from his youth to the end of his political career.Based on a large corpus of documents selected from the 44-volume "Opera omnia di Benito Mussolini", this work analyzes and contextualizes, on the one hand, the reflections on literature which Mussolini develops in writings of various nature (short essays, reviews, speeches addressed to intellectuals, newspaper articles outlining his cultural politics) and, on the other, his own attempts at literary writing (which include poems, short stories, novels and theatre pieces).The purpose of the first part of the thesis is at once to reconstruct Benito Mussolini's intellectual and political career until he rose to power in 1922 - drawing special attention to his cultural and literary education – and to study the place which he assigns to literature and to culture during the fascist regime.The second part combines the literary and stylistic analysis of Mussolini's "literary" texts with his fundamental conceptions of literature and of the social role of the writer which can be drawn from his reflections throughout his political career to offer a better understanding of the function which he attributes to literature within his totalitarian project of a new fascist civilization.
Cette thèse porte sur le rapport de Benito Mussolini (1883-1945) à la littérature depuis ses années de formation jusqu'à la fin de sa carrière politique.À partir d'un riche corpus de textes sélectionnés au sein de l'Opera omnia di Benito Mussolini en 44 volumes, elle contextualise et examine, d'une part, les réflexions sur la littérature que Mussolini mène dans des écrits de nature variée (essais critiques, comptes rendus d'ouvrages, discours aux intellectuels, articles de politique culturelle) et, d'autre part, les textes dans lesquels il s'essaie lui-même à la littérature (poèmes, nouvelles, romans, pièces de théâtre).La première partie de cette thèse propose à la fois une reconstruction du parcours intellectuel et politique de Mussolini jusqu'à son arrivée au pouvoir en 1922 – en portant une attention particulière à sa formation culturelle et littéraire – et une étude de la place qu'il accorde à la littérature et à la culture pendant le régime fasciste. Dans la seconde partie, l'analyse littéraire et stylistique des textes « littéraires » de Mussolini, mise en lien avec ses principales conceptions de la littérature et du rôle de l'écrivain qui ressortent des réflexions théoriques conduites tout au long de sa carrière politique, permet de mieux comprendre la fonction qu'il attribue à la littérature dans son projet totalitaire de création d'une nouvelle civilisation fasciste.
Questa tesi verte sul rapporto di Benito Mussolini (1883-1945) con la letteratura, dai suoi anni di formazione fino alla fine della sua carriera politica.A partire da un vasto corpus di testi selezionati tra i 44 volumi dell'Opera omnia di Benito Mussolini, essa contestualizza e analizza, da una parte, le riflessioni sulla letteratura che Mussolini sviluppa in scritti di varia natura (saggi critici, recensioni, discorsi agli intellettuali, articoli di politica culturale) e, dall'altra, i testi nei quali si cimenta in prima persona nella scrittura letteraria (poesie, novelle, romanzi, opere teatrali).La prima parte di questo lavoro propone al contempo una ricostruzione del percorso intellettuale e politico di Mussolini fino all'ascesa al potere del 1922 – rivolgendo un'attenzione particolare alla sua formazione culturale e letteraria – e uno studio dello spazio che accorda alla letteratura e alla cultura durante il regime fascista. Nella seconda parte, l'analisi letteraria e stilistica dei testi "letterari" di Mussolini, considerata alla luce delle principali concezioni della letteratura e del ruolo dello scrittore che emergono dalle riflessioni teoriche che sviluppò lungo la sua carriera politica, consente di comprendere meglio la funzione che attribuisce alla letteratura nel suo progetto totalitario di creazione di una nuova civiltà fascista.
Fichier principal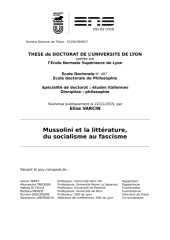 VARCIN_Elise_2019LYSEN057_These.pdf (4.97 Mo)
Télécharger le fichier
Origin : Version validated by the jury (STAR)